Community Living Essex County is proud to announce that we are a Focus Accredited organization!  We believe the earned status of accreditation demonstrates to everyone that we provide quality services and supports, inspire possibilities and continually strive for excellence.
Accreditation is a voluntary, quality assurance process that examines and monitors our supports, services and structures against standards developed by an external, unbiased, highly recognized organization. The external agency we work with is called Focus Accreditation.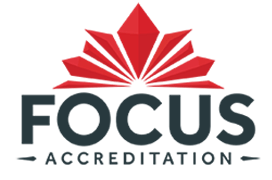 The Accreditation Process
We obtained Accreditation status for the periods 2014-2018 and 2018-2022 and have recently embarked on the journey towards re-accreditation. We accomplished Accreditation through a thorough assessment process which entailed examining every aspect of the agency. The standards developed by Focus Accreditation were examined and we submitted documents and answered numerous questions to demonstrate to Focus Accreditation how and what we do to meet each of these standards.
Focus examined the documents we provided as well as conducted an on-site assessment which entailed visiting many locations, interviewing numerous employees, families, people supported, community partners and other community leaders.
We are very excited to report that Community Living Essex County is once again embarking on a wonderful journey towards Re-Accreditation through Focus Accreditation.
Three years have flown by since our last Accreditation Award in 2018! This will be our 3rd Accreditation.
So much has happened and changed since 2018 and we have lots of creative, innovative and quality enhancement projects to share with and demonstrate to Focus what an amazing and progressive agency we are.
Being Accredited gives our agency an 'award of excellence' which is another way to prove to all stakeholders and the whole community that Community Living Essex County provides outstanding supports and services. Stay tuned for more about our Accreditation journey!
What are the Benefits of Accreditation?
Accreditation results in:
Immediate improvements to services and supports.
Continuous quality improvement and ongoing reviews by Focus Accreditation.
Helps with promotion, recruitment and retention of qualified staff.
Builds confidence and trust among people supported, families, community partners and the public as objective evaluations continuously take place.
Creates for us connections to other agencies who have been accredited and through these connections we are able to gain and share best practices worldwide.