The Start of the Giving Season
After Black Friday and Cyber Monday, #GivingTuesday is a day dedicated to giving back. Giving Tuesday was started in 2012, and has become a global movement, with participation from almost 100 countries!
Happening the Tuesday right after Black Friday and Cyber Monday, two major days for commerce, GivingTuesday is a national day dedicated to giving! It's a day when charities, businesses, and individuals come together for one simple purpose: to celebrate giving and give back.
Join the movement! Let's show our commitment to making our communities, country, and the world a better place.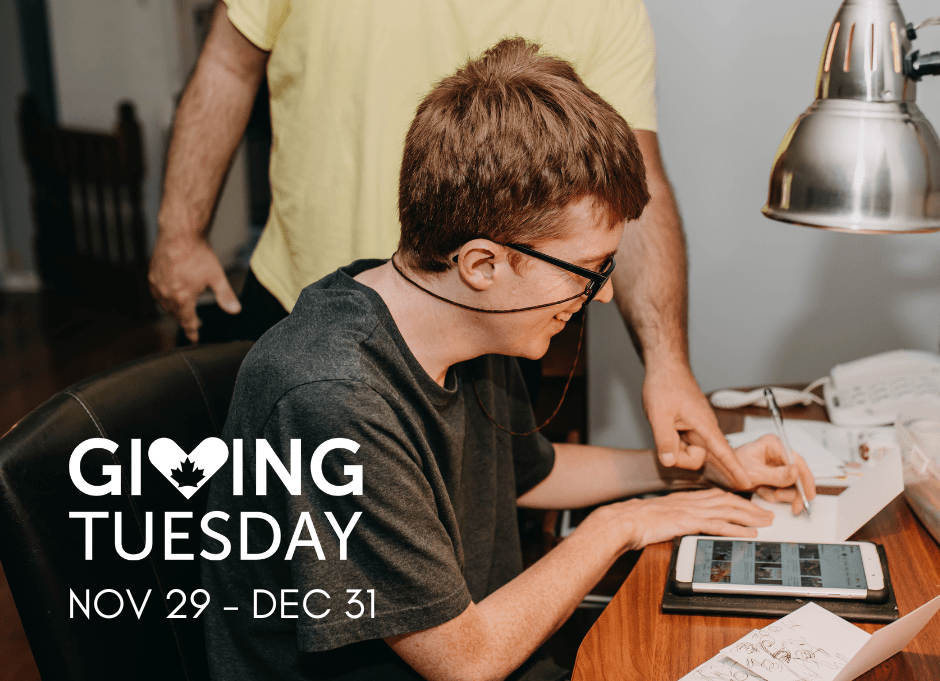 Giving Tuesday is November 29, but our campaign runs until December 31! Make an impact in the lives of people with intellectual disabilities this holiday season with a donation that will be matched, dollar for dollar, by Libro Credit Union.
100% of Giving Tuesday proceeds go toward the purchase of technology, such as smartphones, tablets, apps, and wearables, to help people we support develop skills, take part in virtual supports, and stay connected with friends and family.
All donations made to Community Living Essex County until Saturday, December 31st will be matched by Libro up to a maximum of $6,000.  This year our goal is $12,000 – help us beat it!
Other Ways to Give:
Join us at Vern's Tap and Grill at 22 Main Street East in Kingsville for a pasta lunch or dinner all day TODAY, November 29th.
Pick up dinner at Carmen's Catering, located at 75 Oak Street in Leamington! They will be donating $1.00 from every 4 o'clock meal special until December 31st.
Order pizza from Domino's Pizza locations in Belle River, Essex, LaSalle, Tecumseh, & Windsor between December 6th to December 22nd. They will donate $1.00 from every large, one-topping pizza (pick up only) to our Giving Tuesday campaign.
Last year we raised a total of $10,653 during our 2021 Giving Tuesday Canada campaign! We want to say a HUGE thank you to our matching sponsor, Libro Credit Union in Essex County. Thank you to all of our sponsors and donors, as well as everyone who helped us spread the word about our campaign! With the funds raised from our 2021 Giving Tuesday campaign, we were able to purchase iPads and cases for people receiving supports.  These devices will help people attend virtual support sessions and stay connected to loved ones.
How Do I Participate in Giving Tuesday?
There are many ways! You can participate by making a donation to help us reach our fundraising goal, volunteering your time at our holiday gift wrapping booth at Devonshire Mall and sharing our posts on social media to help spread the word about our #GivingTuesday campaign!
Follow along on our social channels to track our campaign progress & for more ways you can get involved throughout the giving season!
Even if it isn't GivingTuesday in Canada, we are always accepting charitable donations. You can help us to continue inspiring possibilities by clicking the button below to donate today.
Donate Today